So I got one in today..
Does not come with the AA batteries (x2) or the CR2032.
Its SightMark Photon 5x42 Digital NightVision Rifle Scope #SM18003.. Normal pricing so far is like $599..
The nice part with a digital scope is you can use it during the day or at night..
They recommend (for obvious reasons)
HIGH
30mm diameter rings.. (I am waiting on mine)..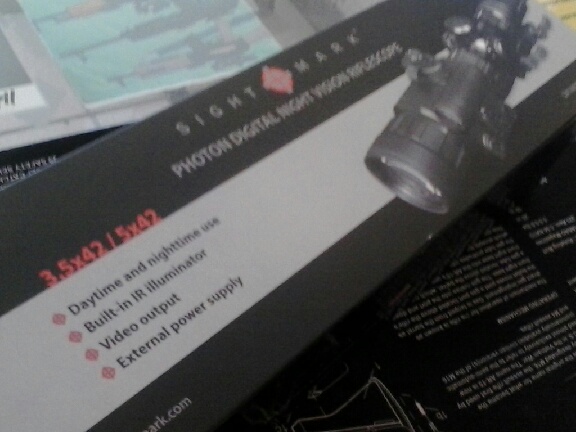 The digital part has jacks for external battery pack to power the unit.. and a RCA video out jack to record or view what you see..
The IR on the 5x42 is listed as a 780nm
laser
.. There 3x42 model says IR
LED
is 805nm..
OAL is 13 1/2"
Ring distance is only 4 1/2"
The adjustments is 1/4 MOA.. and are finger adj. turrets under the caps..
The Illuminated DOT in the middle of the black cross hair has a total of 11 settings..
Day Time picture with my crappy phone..
Some guy over in the UK did a video review at night.. this is screenshot from
his
review at night..
I will be checking this tonight and will report back with my findings..
_________________
YouWon'tHearItComing..
Navy Vet 88-92, NRA Instructor
BCM AR Middy [Shelly]
Glock 30, Marlin Papoose
http://www.RioGrandeArms.Com