Ok Gun.. I just happened to have the day off and was heading to the range anyway.... so, I'll play =) Did not have any slugs other than some low recoil Fiocchi's so I stopped by Wally World on my way to my friends place/range and only thing they had was Winchester Super X.. Nada, nothing else...
so beggers can't be bitchin' and I took it and off I went. This test was not completed with any of the Fiocchi rounds at this time, my apologies. I would have had to put my performance CSS spring in and then my site would have been off again, taking more time. Plus, I wanted my test to be the best ammo I could get off of Wally Worlds shelf as I am sure most other normal guys like me would. Friends place has a 100 yd range, but since I only have a red dot (that I just 95% sited today), bad eyes (these are two "BUT's" - see below for reference) and no one to spot for me (friend has my binoculars), I opted for the 25 yd challenge. I marked off 25 yds and painted for consistency in location
with a TruPulse 200B from Laser Technology. Laser has been calibrated this year and is accurate up to 6" +/- at 400'. Galvanized metal plate on post was utilized to get the reading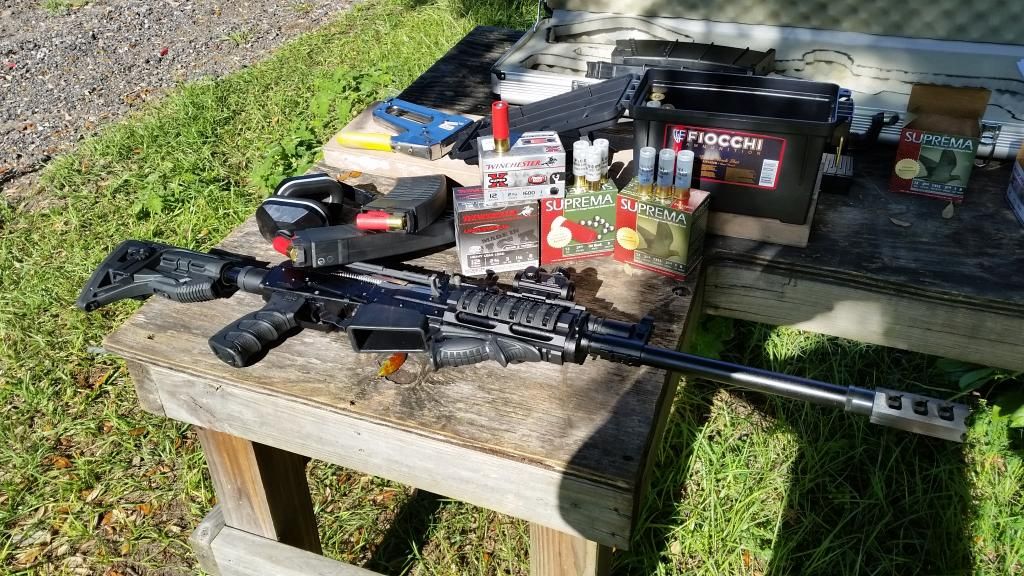 My weapon of choice: Molot VEPR-12 (modified... heavily)
Factory Folding Stock removed
* Molot VEPR Telescoping Stock Adapter
* CrossHair - Shotgun Recoil Reducing Stock Adapter
* Mako GL Recoil Reducing Stock
* Polished Gas Piston & Bolt Assembly
* Factory paint removed from gas block and gas port holes and recovered with Aluma-Hyde II (keeping holes open)
* CHAOS Quad Rail
* UTG Tactical 4 MOA Red/Green Sight
* Mako Stealth Forward Assist & Positioning Enhancer (to help get grip on rail and hold in tight)
* JT Engineering Competition Break
* JTE Performance Guide Rod
* Full Power Spring (you never know)
* CAA AK Grip w/interchangeable straps
Conditions were 10 am, Central Florida. Sunny and 83 degrees with a slight S to N breeze crossing shooting alley (who am I kidding.. not a meterologist... it was breezy all day =) Humidity I am guessing was around 80%. It was hot and I was sweating, but only one boy was stuck to the leg, not two... so no more than 80%.
Now come my
"BUT's"
.. I had not sighted in my red dot till this morning, not even bore scoped. I took 5 shots at silhouette for quick sighting then did sheet #1. I am a bit off as you can see. Did I mention I have bad eyes and terrible lack of upper body strength being only 151 lbs.. 2nd 5 rds is a tad better with one "operator error". Still haven't done my trigger job and I just started shooting right hand this year....
... that's 5 "BUTS" for the record
=)
ENTRY #2 ON SPREADSHEET
...2nd group of 5
....and while I was out there.. cleaned up all my VEPR hulls from the today and 2 other visits... I think she's pretty much broke in now...
..... oh yeah... it was a good day indeed! All in all.. I'm pretty happy with the outcome with the low quality ammo and my bad aim/eyes.
Gun, I have the scanned pdf's if you can't measure off of this jpg. Or I can email them to you. Just let me know..
...NEXT CONTESTANT PLEASE =)