I recently got in a 762x54R VEPR in 20.5" Flavor..
Heavy duty everything and clean..
Notice the barrel is not threaded on this Version 01 model.. Version 02 models with the Gas Block and Front Site Combo are usually threaded per WPA (the importer)..
It has a 1000m read leaf sight with windage adjustability.. the Ver 02 does not and only has 100/300 settings..
I was informed there was a heavy notch in the hammer so dropping a standard G2 trigger in can't happen.. you need to MODIFY it for the crossbar in the receiver..
I will have a modified G2 installed within a few weeks..
VEPR hammer near.. Saiga hammer far..
I will be threading 5/8-24RH for a Comp/Brake by next weekend to cut the recoil abit.. bought the threading tools from CNC warrior..
I ordered a JP Cooley 324 Comp/Brake just tonight from Brownells..
I got in a fresh OLD tin of 440 rounds of 54R today in yellow tip 182gr..
Rifle at the range was shooting LOW.. had to crank the front post to change..
Heres 2 five shot groups at 100 yards with the irons..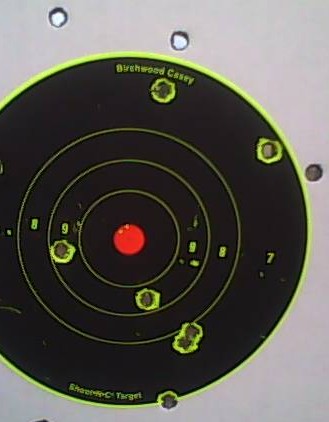 and I did a few clays at 100 yards also..
Overall VERY HAPPY..
YT of rifle..
http://youtu.be/iIt7fK7ZFLA
YT of 5 shots..
http://youtu.be/xGhCmc0ZKJ0
_________________
YouWon'tHearItComing..
Navy Vet 88-92, NRA Instructor
BCM AR Middy [Shelly]
Glock 30, Marlin Papoose
http://www.RioGrandeArms.Com